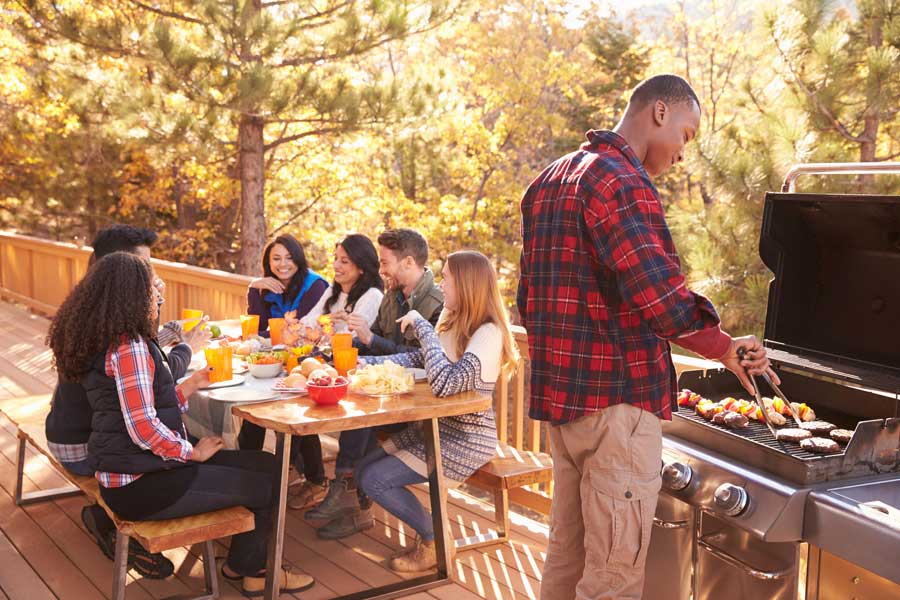 Innovative Builders services Denver, Colorado, and the surrounding cities. If you live in our service area, you know what a beautiful place this is to live in. With 300+ days of sunshine, mountain views, and a colorful variety of local flora and fauna, many people spend as much time as they can on their patios and decks. With BBQ season fast approaching, here are a few additions you can make to your deck to ensure that it is a fun and comfortable place to hang out.
Furniture
If you want to make your deck conducive to socializing and relaxing, patio furniture is an essential element. If you want to spend a lot of time in your outdoor space, it is worth it to invest a quality set. If you are looking for quality patio furniture on a budget, Facebook Marketplace, garage sales, and estate sales are great places to find well-made furniture for good prices. A deck space with plenty of comfortable seating is a sure fire way to encourage gathering outside.
Outdoor Cooking
People tend to hang out in kitchens during gatherings. So naturally if you want people to hang out on the deck, it is important to have a grill or outdoor kitchen there. This way you can enjoy everyone's company while preparing food and not be banished inside to do this job while everyone else is enjoying the fine weather.
Lighting
If you want people to linger in conversation well into the night, lighting is important. Adorn your deck with twinkling lights, have a few well placed lanterns, and line walking spaces with solar charged lawn lights. Soft yet functional lighting will give your deck space a wonderful ambiance and create an inviting space, even after the sun has gone down.
Something else that can get in the way of your deck being the perfect hangout spot is a decaying deck. If your deck is splintering, rotting, or needs a fresh stain, contact Innovative Builders for help. We can repair and upgrade your deck so that it is ready to use all summer long.
By Innovative Builders 5-6-2022