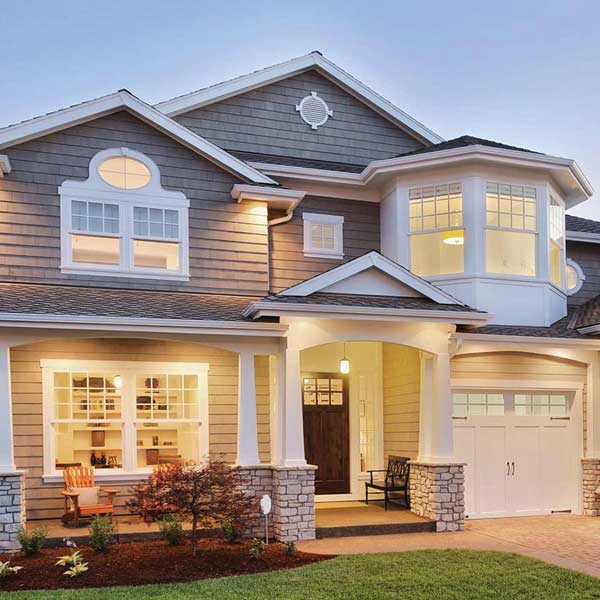 Painting the exterior of your home can be a fun project when you're trying to find what project to do next around the house. What makes it a nice project is the fact that the whole family can have a part in it. Having the young ones paint the exterior of your home will help teach them how to maintain and take care of things, as well as how to have fun when you have to do the mundane things. Innovative Builders has painted a lot of homes over the years and understands that there is a lot involved when taking on such a hefty project. Here are some things that you might want to consider when painting the exterior of your home.
It isn't as easy as painting a new coat on top of the old. You want it to look good, especially if you're wanting to sell your home. This means that you're going to want to do it right and pick a good neutral color that homeowners will like. Looking up the top color trends for this year is an especially good idea. Even researching the home colors that sell the best can be beneficial in helping you to decide.
The first thing that you'll need to do is give it a good cleaning so that you know what you're looking at. A hose starting from top to bottom with a nylon brush should do the job. You want to do this not only because it helps the paint adhere better but also because it will help reveal to you what needs to be fixed and repaired before you paint your home.
When it comes to the actual painting side of things it is paramount that you go through and find out what needs to be repaired first. If you have cracks, caulking that is falling out or has holes in it then you'll want to make sure that you make these repairs first. This is what makes your home waterproof and protected from elements. After you have done this then you need to sand parts of the old paint off that are peeling or ridged.
There are a lot more steps and details that you have to consider when you paint the exterior of your home, but this is the quick notes version. It can seem like a lot that you would have to do, and it can be very time consuming, therefore, we are more than happy to take this project off your plate. If you are still worried about the coronavirus, this project takes place completely outside your home, so you won't have to worry about a thing. Give us a call today if you would like to set up a free home evaluation for your project.
By Innovative Builders 6-3-2020