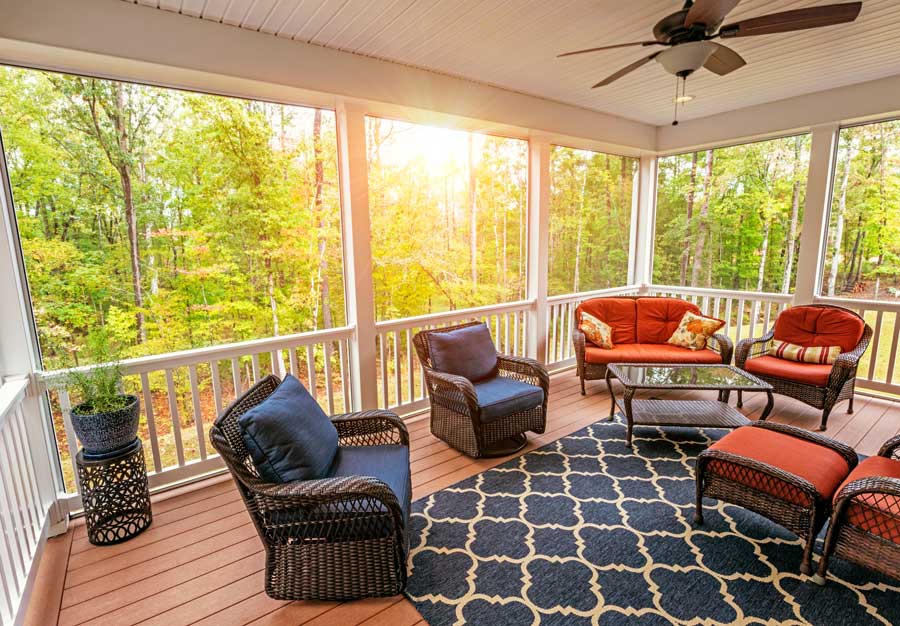 Now is an excellent time to upgrade your porch area for the summer! With warm weather right around the corner, you'll want to have a comfortable, functional, and stylish outdoor living space that you can enjoy with your family and friends. At Innovative Builders we are happy to upgrade the porches of Colorado homeowners in a variety of ways. Here are some reasons why now is the perfect time to consider upgrading your porch with a deck, a screened-in porch, or a sunroom.
Ideal Weather Conditions
For starters, spring is the best season to start planning and executing a porch upgrade project due to the weather. The mild weather conditions provide optimal working conditions for contractors, and you can avoid potential delays caused by extreme weather.
Increased Home Value
Upgrading your porch with a deck, a screened-in porch, or a sunroom can increase your home's value. An upgraded porch adds to your home's curb appeal and provides additional living space that can be used all year round. Not only will you enjoy your upgraded porch, but you will also benefit from increased home equity if you decide to sell your home in the future.
Entertaining Guests
Everyone wants to get together and spend time outside during the summer. Which is why upgrading your porch area now can prepare your home as the place to be when all of the nice days hit. An upgraded porch area can provide a comfortable and welcoming space for hosting guests. A screened-in porch or sunroom allows you to enjoy the outdoors without worrying about bugs or inclement weather. A deck provides ample space for seating and dining, perfect for outdoor barbecues and gatherings. You cannot go wrong with any of these upgrade options.
Improved Functionality
Upgrading your porch area can also provide you with additional space for relaxation, hobbies, and entertaining. A screened-in porch or sunroom can serve as an additional living room or home office. A deck provides ample space for outdoor dining, gardening, and lounging. So even when friends and family are gone, you still have extra living space on a day to day basis that you can utilize.
Aesthetic Appeal
And then of course, there is the fact that a porch upgrade just looks nice. A new deck, screened-in porch, or sunroom can add an elegant and modern touch to your home's exterior, improving its overall aesthetic appeal.
As you can see, upgrading your porch with a deck, a screened-in porch, or a sunroom is an excellent way to prepare for the summer season. So, why not start planning your porch upgrade project now? Give Innovative Builders a call to discuss your project and get a free quote!
By Innovative Builders 5-9-2023